Baby Back Ribs Ladoregano – Greek Islands Taverna
---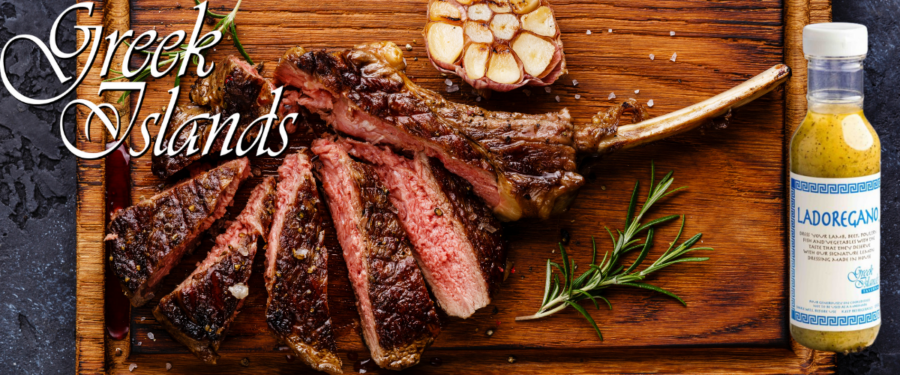 Baby back ribs.  Yum!  Just the words themself are enough to make your mouth water.  You know they are a tried and true American dish, particularly in the South. After all, one of the most patriotic meals you can imagine features barbequed ribs
. 
That said, at Greek Islands Taverna we truly believe you haven't tasted the world's best ribs until you try our Baby Back Ribs Ladoregano. A specialty at our Fort Lauderdale restaurant, this dish is something to behold.  Picture this, a plate filled with a full rack of charbroiled baby back ribs, seasoned in the traditional Greek style with oregano, lemon, and olive oil. And, don't forget to enjoy our famous sides:  patates ladoregano (lemon potatoes), and seasonable fresh veggies.  
We have transformed this dish into something new. It's a little bit lighter, a little bit fresher, and reminiscent of dining in Greece! Without a doubt, it is one of our most popular menu items. For some of our regulars, it is their "go-to" meal.
Ladoregano® Sauce – Family Recipe
For those who would like to replicate this dish at home, we are happy to help. While we can't tell you our exact recipe (you know, it's a long-time family secret), what we can do is share our signature Ladoregano ® sauce with you.  It is available in our restaurant and we even ship it (your friends in other areas will love it as much as you do).
You see, we know that eating in our restaurant is special, but you certainly cannot dine here every night (although it would be our pleasure to host you). So, we made it a little easier to enjoy our ribs at home.  
All you need to do is cook your baby back ribs as you wish (we are a fan of char-broiling, but they are delicious on the grill as well). When cooked, simply brush our sauce on top of your hot ribs.  You can also use it as a dressing for your potatoes and veggies. It will be just (well, almost) like dining with us!  
Quick note, make sure you refrigerate the sauce once it is open, then it will be safe to use when you cook your next Greek Style meal at home! 
We are thrilled that our clients can take a little of our family and its history home with them. Greek food is healthy, delicious, and easy to prepare. We have no doubt your family and guests will love the Greek-style baby back ribs you prepared for them in your home!  Next time you come to dine with us, let us know what everyone thought!  We always love a satisfied customer!