Chicken Greek Salad Recipe – Greek Islands Taverna
---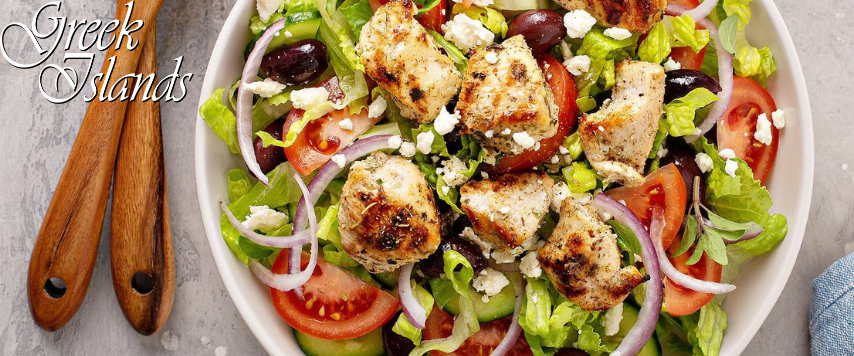 Greek Islands Taverna – Chicken Greek Salad Recipe
Chicken, tomatoes, cucumbers, red onion, olives, feta, oregano, and olive oil are the traditional components of a chicken Greek salad recipe. Greek salad is low in calories and high in nutrients, including vitamins A and C, potassium, and iron. Phytonutrients and antioxidants are also present, making it a good choice for lowering one's risk of serious diseases including cancer and heart disease. Most Greeks enjoy a salad every day throughout the summer because of the combination of these components. It is an easy and enjoyable method to add vital vitamins and minerals to your daily diet.
It seems like you can pair a chicken Greek salad with everything. Meat and fish cooked on a grill or in the oven, "meze" (appetizers) prepared in the Greek style, traditional Greek cuisine, and standard American fares like burgers, pizza, and pasta all go well with a chicken Greek salad. It also goes excellent with bread as a side or as a light dinner on its own. When paired with your preferred fresh bread, it makes for a satisfying and nutritionally sound light lunch. Bread is a staple in Greece and is typically offered with every meal.
Typically, a Greek lunch will be on the lighter side, consisting of a handmade casserole or vegetable stew. Besides the wine, it comes with a plate of cheese, bread, and salad. Authentic Greek cooking has long been known for its emphasis on fresh seafood. Seafood and vegetables are staples in Greek cuisine, as well as Greek-influenced cuisines from other nations like Italy and Turkey. Appetizers, the main meal, wine or other alcoholic beverages, and dessert are the standard fare for a Greek lunch. Greek cooking relies heavily on herbs, both fresh and dried, which contribute to its hearty flavor. Greek cuisine likewise relies heavily on olive oil. 
Chicken in the Greek style is a tasty and filling meal. Marinated in oregano, lemon, and garlic, chunks of tender chicken breast or thighs are strung onto skewers and grilled until cooked through. The hallmark of most European cuisines is their uncomplicated simplicity. The same may be said for this dish. In order to make the marinade, lemon juice, red wine vinegar, garlic, oregano, and olive oil are mixed together in the chicken Greek salad recipe. The chicken Greek salad is a must-order at our eatery.
Next time you want the most authentic and flavorful Greek food, visit Greek Islands Taverna. Whether you are dining in or ordering catering, we will make accommodations for you and your party. Our chicken greek salad recipe and our signature ladoregano sauce will leave you satisfied and wanting to eat Greek food again and again.