Fried Calamari Near Me – Greek Islands Taverna
---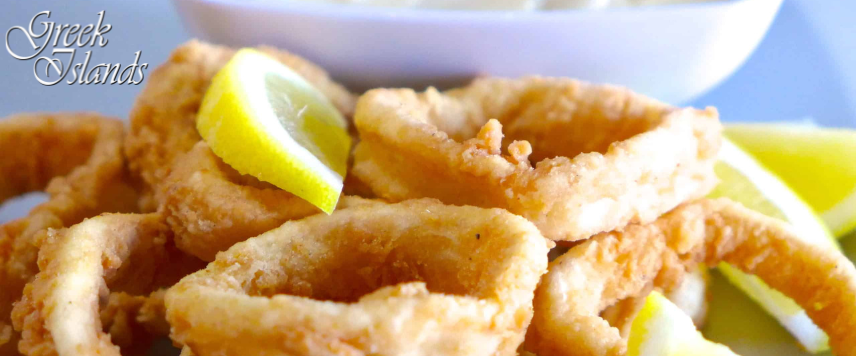 Greek Islands Taverna – Looking For Fried Calamari Near Me?
Deliciously simple dishes like fried calamari with lemon are often the most memorable. The crispy golden batter and delicate squid rings make a delicious combination. It's no surprise that fried calamari with lemon, with its zest to heighten the flavors, has become a beloved dish, delighting seafood fans and foodies alike. This delicacy will leave a lasting impact on the taste buds of any seafood enthusiast who savors it as an entree, a starter, or a snack.
A staple of coastal and Mediterranean cuisines, fried calamari with lemon is a symbol of the culinary heritage of countries like Greece, Italy, Spain, and Turkey. Seafood meals are highly valued in these societies because of the strong emotional connection they have with the sea and coastal lifestyle. The seafood-loving people all around the world have a soft spot for this meal because of how homey and pleasant it is. The delicious, sensitive squid on the inside is a lovely contrast to the crispiness and delicacy of the coating. The inclusion of lemon not only improves the flavor but also adds a sophisticated note to the dish's overall aesthetic.
The Best Fried Calamari
A staple of fine seafood restaurants around the world, it heralds the arrival of a truly memorable meal. It can also be served as a main meal with a salad and savory dips, or as part of a seafood platter among other treasures from the sea. Deep-fried or shallow-fried, the squid rings are cooked until they are a gorgeous golden color. In just a few short minutes, you can get the ideal texture—crisp outside, delicate inside.
The golden rings of fried calamari are best appreciated when presented in a shallow dish or on a tray. To add a splash of color to the dish, fresh parsley is frequently used as a garnish. The tartness of the lemon brightens and refreshes the calamari's taste, helping to cut through the heaviness of the fried batter. Next time you're looking for the best fried calamari near me, consider trying fresh Greek kalamaria.
Kalamaria Is A Classic Greek Dish
The ancient Greeks, who were also accomplished sailors, placed a high value on seafood as a staple cuisine. Squid, which came to be known as Kalamaria's "hero ingredient," was only one of the many marine delights that they were able to harvest from the Mediterranean Sea's bountiful supply. The history of Kalamaria, or Fried Calamari, goes all the way back to ancient times, and it's a fascinating one. As a dish with profound cultural roots in Greece, its significance and history are tied to the country's longstanding relationship with the sea and its many culinary traditions.
Kalamaria, a seafood stew, is widely regarded as a modern Greek culinary landmark. Taverns and restaurants offering the day's fish can be found all across Greece and are frequented by both locals and visitors alike. In Greek society and hospitality, kalamaria plays a significant role. It's a go-to appetizer for parties large and small, informal and formal alike. The Greek custom of sharing a meal of kalamaria is emblematic of the value placed on friendship and community in Greece. The variety of Greek areas and the abundance of locally cultivated foodstuffs are reflected in the cuisine's long history. Because of their proximity to the water, coastal communities have their own special ways of cooking the mollusk often known as squid. Kalamaria has changed over time in response to the preferences of numerous civilizations.
If you've been looking for fresh, tasty, and authentic Greek cuisine in South Florida, visit our restaurant today!