Horiatiki Salata – Greek Islands Taverna
---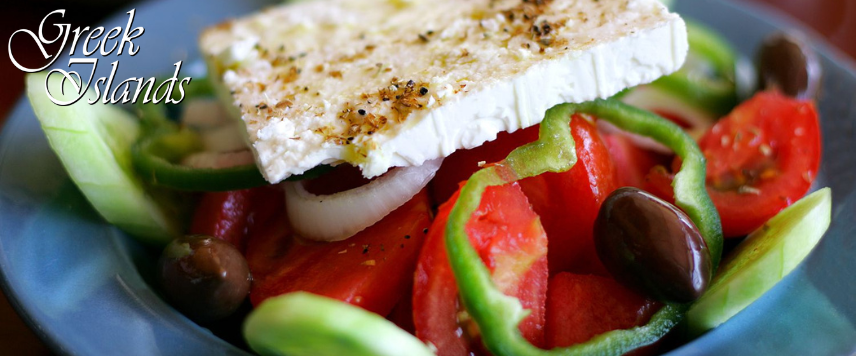 Greek Islands Taverna – The Best Horiatiki Salata
The Greek dish Horiatiki Salata, known for its flavor and freshness, has gained fans all over the world. This salad is a traditional dish from the Mediterranean region; it is light, refreshing, and full of flavor thanks to its use of fresh, simple ingredients. Our dish comes with tomatoes, green peppers, cucumbers, feta cheese, olives, onions, and special house dressing.
Historians have found evidence of Horiatiki Salata dating back hundreds of years in Greece. Greek Choriatiki, meaning "village style," is the source of our word "Horiatiki." The salad was traditionally a peasant dish prepared with whatever garden vegetables were in season at the time. Typically, the ingredients for a traditional Horiatiki Salad are tomatoes, cucumbers, red onions, green peppers, feta cheese, olives, and a dash of dried oregano in olive oil. This salad's humble origins belie its elevated status as a culinary mainstay in Greece.
In addition to being incredibly tasty, Horiatiki Salad also has many health benefits. The salad is loaded with healthy, wholesome ingredients. Examples of foods that are rich in compounds with anti-inflammatory effects include tomatoes, which contain both vitamin C and lycopene. Cucumbers are a great food to include in a healthy diet because they are low in calories and contain a lot of water. protein and calcium-rich feta cheese and heart-healthy olives.
Horiatiki Salata is equally tasty as an appetizer or a main dish. It goes well with grilled seafood or meats and can be made vegetarian or vegan by leaving out the feta cheese. Crusty bread or pita chips are great additions to this salad to make it more substantial. Enjoy this salad during the summer when fresh vegetables and fruits are readily available. For those who want to eat more vegetables, this dish is a wonderful option because of the many different kinds of vegetables used.
The ripe tomatoes add a pleasant sweetness, and the cucumbers add a refreshing crunch. There's a tangy kick from the onions and a subtle earthiness from the green peppers. Salty contrast is provided by the tangy and creamy feta cheese. The olives, which finish off the dish with a briny, savory taste, are the perfect finishing touch. Our unique house dressing ties all of the ingredients together, so each bite is a symphony of flavor.
Both the Horiatiki salad and the Prasini salad are staples of Greek cuisine and are frequently served as starters or accompaniments. They have some things in common, but their ingredients, methods of preparation, and tastes are very different. Horiatiki Salata is based on vegetables, while Prasini Salata is primarily composed of greens, so this is the primary distinction between the two. Salads like Horiatiki and Prasini differ in that the former features ripe vegetables and olives while the latter features greens and fresh herbs. The pieces of Horiatiki Salad are typically larger and wedge-shaped, while the pieces of Prasini Salad are typically smaller and more manageable for a single bite. If you're interested in a delicious and authentic Horiatiki salata, visit our restaurant today.