Prasini Salad – Greek Islands Taverna
---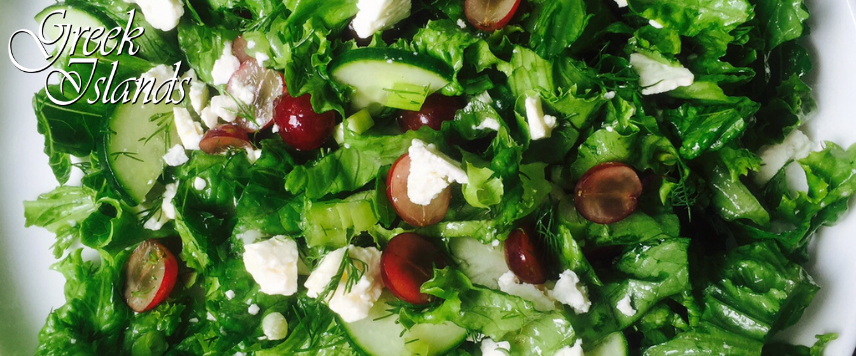 Greek Islands Taverna – The Best Prasini Salad
The fresh greens, herbs, and vegetables that make up a Prasini salad are the foundation of any classic Greek salad. For this reason, the Greeks gave this salad the name "prasini," which literally translates to "green," in honor of its primary ingredient, which is chopped fresh parsley. The prasini salad at Greek Islands Taverna also features romaine and mixed lettuce, radicchio, diced tomatoes, onions, dill, and our special house dressing or world-famous ladoregano sauce.
The prasini salad is a good example of the high-quality, low-fat, and nutrient-dense food that Greek cuisine is famous for. The fresh greens, herbs, and vegetables that go into this Greek salad's ingredients make it not only tasty but also incredibly nourishing. When looking for a meal that is both healthy and filling, Prasini salad is an excellent option. All of the greens in the dish work together to deliver a nutritional dream of a meal. Salad greens are also a good source of fiber, which aids in digestion and weight control.
As a low-calorie option, prasini salad is an excellent addition to any diet aimed at maintaining or reducing body weight. Because it relies mostly on fresh ingredients and uses only a small amount of processed ones, prasini salad is a much healthier choice than many other common salads. The house dressing that comes with the salad is also healthier than many popular dressings. The fresh, robust flavors of the ingredients in a prasini salad contribute to the dish's delicious flavor. This fresh flavor that everyone loves comes from the use of herbs like parsley and vegetables like tomatoes and onion. The salad's unique house dressing is tangy and mildly acidic, highlighting the natural flavors of the salad. Seasonings like salt and pepper can also be used to boost the flavor of the salad. Because it is made with only the freshest ingredients, the prasini salad at Greek Islands Taverna is always a reliable choice for an entree.
An excellent beverage complement can elevate the flavor of a tasty prasini salad and round out a satisfying meal. The bright and sour tastes of a prasini salad pair beautifully with a dry, crisp white wine. The delicate wine goes well with the fresh vegetables. Another option is to drink a light beer. Beer's flavor won't overpower the salad's, and the carbonation will serve as a great palate cleanser and mouth refresher. Sparkling water with a squeeze of lemon or lime is a great nonalcoholic beverage choice that complements the sour flavors of the salad if you don't want an alcoholic drink.
A prasini salad is a good choice because of its versatility. If you're looking for something fresh and easy to digest for lunch, go ahead and try it. Or maybe you want a satisfying meal but you're trying to cut back on calories and eat a little healthier, it's still a good option. Due to all of the fresh ingredients, the dish will never feel heavy and make you sluggish. Visit Greek Islands Taverna today and try an authentic prasini salad. We also highly recommend that you try our ladoregano sauce, which goes well with everything on our menu.